Collection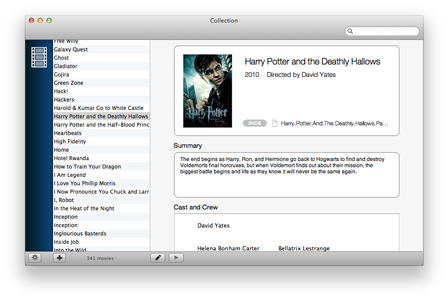 Version 1.1
Supports Mac OS X Lion
and OS X Mountain Lion
Effortless management.
Take control of your entire digital movie collection without moving a finger.
With Collection you can track your entire digital library from just one place. Whether you store your movies on your Mac, an external hard drive or the Web, you wont't need to worry about its location or spend time looking for it.
Collection is currently unavailable for purchase. It will be available again once development of version 1.2 has been completed.
Click and Watch

Browse through your library for the movie you want to watch, press a button and enjoy it using your favorite media player.1

Automatic Additions

Collection automatically adds new movies to your library.

Movie details and cover art are automatically downloaded so you can focus on what's important and not waste time with the boring stuff.

Works with servers

Stream videos from any web server — no configuration or installation needed.2

Search, and you will find

Is the movie you want to watch located on your computer, or your external hard drive? It doesn't matter! Let Collection take care of all the logistics.
Local video files use your associated player, while web video files require VLC.
Streaming may require high-speed broadband internet access. Additional fees may occur.